CORNUCOPIA AN551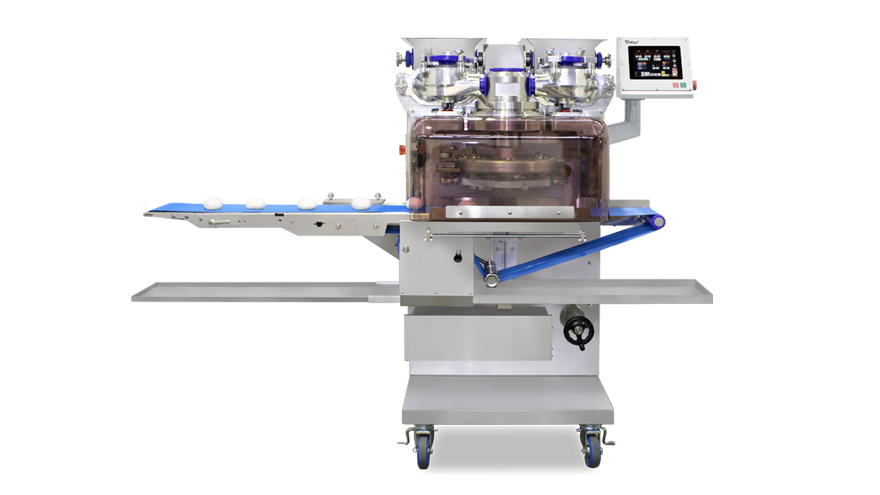 Encrusting Machine

Single-row model
AN551 is a high-performance Encrusting Machine with superb efficiency and user-friendly operation. 100 pcs./min(max.) production speed.Product Weight Range is 10 – 30g.
Features
Photos and videos may describe the features of similar models.
Some of the exterior, such as the safety cover, may be different from the actual model.
Thank you for your understanding in advance.

Cutting-edge features
Further improved sanitary properties by keeping the dough from touching the drive section, and other improvements. User-friendly large color touch screen. Optional Two Step Belt Model is available. Washable with running water.
Two Step Belt Model(Optional)
Achieve high-speed and stable production even with small products using the optional Two Step Belt Model.
Color Touch Screen
Adapted "Easy to see and Easy to use" color touch panel.Data for up to 100 products can be stored in the Cornucopia AN551 and easily reproduces the memorized data with a push of a button.
Stainless Steel Cylinders
Adapts safe and hygienic design in all parts for reassured operation.Hygienic and durable stainless steel hopper.
Washable with running water.
Cleaning is super easy since the AN551 has fewer parts and is effortless to dismantle.
Various forming capacities
Continuous Cylinder Extrusion
Weight, Length, and Encrusting Ratio are changeable as required